Ginger
On September 23rd, Ginger went to Texas to help with the Red Cross in their Hurricane relief. Everyone is very proud of her. She's been put in a leadership position overseeing many tasks and has even spoken to Ross Perot regarding his donations and the help he's able to provide.
The front page of their local paper featured Ginger and the group who was sent to Texas with her. There is still so much to do and volunteers are essential to the relief effort.
Please help by donating to the Red Cross.

Click a picture to see a larger view.

---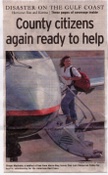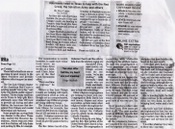 ©madretz