Come up for the weekend. Hike the Half Dome Trail, walk the scenic valley floor, or just dine in the elegance of the majestic Ahwahnee Hotel.
Invite your family and friends to join us and build some happy High Sierra memories. Yosemite in the spring with the waterfalls pouring has to be seen to be believed. Come enjoy hiking, camping and camaraderie. Roast some marshmallows by the campfire. Watch the sunset in the nation's most scenic national park.
We look forward to hearing from you and hope you can make it.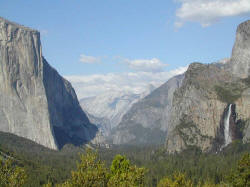 Here is what we plan to do:
Arrive in Yosemite Valley by Friday, May 21
Spend the night in the lodging that best suits your personal preference. The Ahwahnee Hotel is 5 star while the Upper Pines campground is millions of stars and ready for your tent. And there is a whole range in between. Many of the folks with whom I have already spoken are headed for the tent cabins in Curry Village (probably my choice too). If you need some help deciding let me know and I can give the low down as I have had the pleasure of staying in every conceivable place there. The following link has lots of good stuff about where to stay. We will also stay on Saturday night. http://www.nationalparkreservations.com/yosemite_parklodging.htm
Many of us are going to get to the Valley on Thursday to get acclimatized for the Saturday "climb" of Half Dome. The elevation on the valley floor is about 4,500. The real reason to get there an extra day early is to enjoy the place. For those with kids and school to deal with, arrival on Friday is still great. If you are flying to California for this outing you may want to know that from Oakland it is 170 miles or about 4 hour drive. The closest decent sized airport is Fresno at only 90 miles away, still about 2 ˝ hours due to mountain roads. As we get closer and learn who is flying into which airport we can probably join some of you up with others to put fewer rental cars in the Valley.
The Half Dome Climb:
The Half Dome climb is quite strenuous, mostly because it is about 17 miles round trip, and a vertical of around 4,000 feet. It does not involve "high altitude" though, as the top is only 8,800 feet. I have climbed Half Dome with people from 8 to 65 years old and with a 6 month pregnant woman (yes Ginger made it) and a man who did it hopping on one leg (yes Stu also made it, though he paid later). Those who intend to go should either be under 25 and in good shape; or focus rather closely on some serious preparation for the next 9 weeks. Many thousands of people enjoy the climb each year. There are no technical climbing skills or equipment needed. In the climbing world Half Dome is called "A walk up". Meaning essentially you are just walking (there are a few stairs too).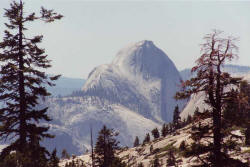 Vernal Falls/Nevada Falls Hike:
This hike is pleasant and scenic. The trail takes you up about three miles on the way to Half Dome. The view of the falls is fantastic. If you'd like just a little more intensity, you can hike to Nevada Falls, which is also en route to Half Dome. On the way there, you'll see Liberty Cap.
| | |
| --- | --- |
| Vernal Falls | Liberty Cap and Nevada Falls |
Other Hikes:
Yosemite is a veritable treasure trove of hiking trails. In the valley there are a number of easy hikes through fields and meadows. There are spectacular views of the surrounding landmarks and waterfalls. Whatever your desire or skill level, there is a hike for you.
| | |
| --- | --- |
| Valley Floor | View of Yosemite Falls from Glacier Point |
Other information
We have chosen to go the weekend before Memorial Day as we have found the climb much more enjoyable if the trails are less crowded. For those of you with kids in school, suffice it to say that there is nothing in the classroom that will come close to the lessons learned here.
We are going to have a great time with a bunch of great people. There will be many who join us who won't plan to climb Half Dome but will hang out with us as well. There are many things to do in what I feel is one of the most awesome places in the country/world. There are many families who will split up, part climbing and part not.
If you are interested in joining us send me an email so I will keep you on my list to send more info and updates. The most important thing for you to know is that we are going to have a great time that you will never forget. Join us. Eric
---
Interesting Yosemite and Half Dome links
Yosemite National Park Service
Yosemite Map - this link has 2 pdf maps, the official park map and Yosemite Valley Map.
http://www.rahul.net/kenton/fun/yosemite/
-2004 madretz